Press Releases
PATCO News & Information
---
Released:4/8/2019
PATCO Marks End of Transit Car Overhaul Project
Last pair of refurbished train cars placed into service
PATCO marked the end of a major milestone with the ceremonial completion of the transit car overhaul project on Monday, April 8, 2019.

The last pair of married refurbished trains entered service and concluded the $194 million refurbishment project.

As part of the project, all 120 PATCO cars were upgraded by Alstom Transport. The upgrades included new interiors, better communications, security and mechanical improvements.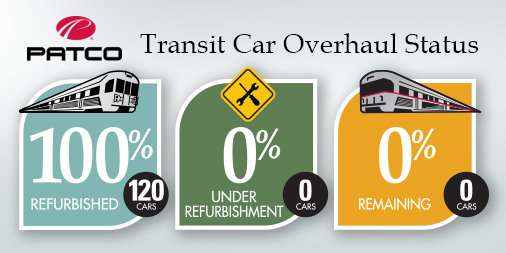 The rehabilitation updated car interiors for customer comfort and installed state-of-the art braking and propulsion control systems for customer safety.

"PATCO is showing its commitment to providing safe and efficient train service, as well as extending the life of our assets as we begin the next 50 years of service," said PATCO General Manager John Rink.

The project was the largest rolling stock capital expenditure since PATCO's inception in 1969 and one of the largest capital improvement projects in the Delaware River Port Authority (DRPA) history.
[ Return to List ]
---