Freedom Fare System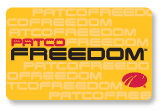 The FREEDOM Card
The smart choice for frequent riders
It's a "stored value" card (like an E-ZPass) with a tiny computer chip and mini-antenna inside.
FREEDOM can be purchased for $5 at any PATCO Vending Machine with cash, debit or credit card (Visa, MasterCard, or American Express).
Seniors, Disabled persons and TranServe Transit Benefit customers must visit the FREEDOM Service Center to get their card.
Paper Ticket
Only Ride Occasionally?
These magnetic stripe tickets are valid for 3 days from date of purchase, and they can be purchased for cash from the automated vending machines.

After you've purchased your FREEDOM Card, become a power-user with this Optional Autoload Feature.
With FREEDOM Connected, you'll never have to visit an Automated Vending Machine in the stations again!
Set up an account Online, register your card and take advantage of balance protection. Simply log onto www.patcofreedomcard.org or call the FREEDOM Card Service Center at 877-373-6777.
Choose your Predetermined Autoload Amount (minimum $30)
When your balance goes below the $5 threshold value, your Predetermined Autoload Amount is automatically debited from your credit card.
View your balance and a history of your last ten transactions Online or at any PATCO Vending Machine.

Balance Protection (optional)

If you lose your FREEDOM card, simply call the FREEDOM Card Service Center (877-373-6777) and report the card missing. The service center can then disable that FREEDOM card and preserve the value that is stored on the card. You can obtain a new FREEDOM card which will include the previous balance. The Service Center will issue a new card for a $5 replacement fee.
Attention TRANServe Transit Benefit Riders
PATCO now has a new Fare Product to accommodate our TRANServe Transit Benefit riders. Learn more by visiting the full ridepatco.org website.