Transit Car Overhaul
This project refurbishes all 120 rail cars in PATCO's fleet.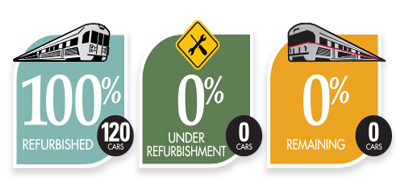 As part of a $194 million refurbishment project, all 120 PATCO cars will be upgraded by Alstom Transport of Hornell, N.Y. to include new interiors, better communications, security, and mechanical improvements. The project is the largest rolling stock capital expenditure since PATCO's inception in 1969 and one of the largest capital improvement projects in the Delaware River Port Authority (DRPA) history.
The rehabilitation updates car interiors for customer comfort and installs state-of-the art braking and propulsion control systems for customer safety. Because the updates are so extensive — only the stainless-steel shells and the traction motors are being retained — each car will get a new four-digit ID number as it reenters service. PATCO staffers are calling them "the 1000-Series cars" to reflect those new numbers.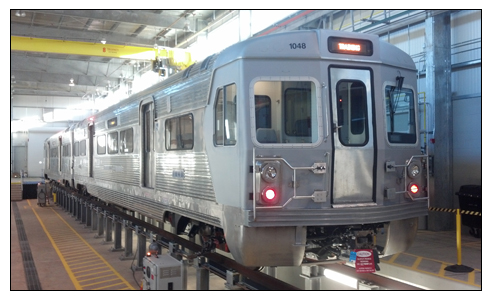 The new interiors feature brighter colors, higher ceilings, slip-resistant floors and new seats for greater passenger comfort. With thicker windows, better weather stripping and brand-new heating and air conditioning systems, the refurbished cars will be cooler during the summer and warmer in the winter.
For greater security, the new passenger alarm system includes an intercom that allows passengers to communicate with the train operator. The cars also are equipped with interior security cameras connected to an externally accessible DVR.
Brakes on the cars have been improved to allow for quicker stopping and more stability and to conserve power by returning the power generated in braking to the cars' power systems.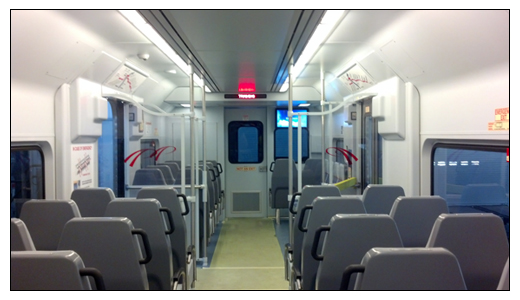 The cars also include a number of new communications systems: A new public address system with automatic announcements, a noise-sensing microphone and better speakers; external speakers on the cars so announcements made from the train can be heard on the platforms; scrolling exterior destination-and-route signs; and a video advertising and infotainment system.
PATCO operators find the cars easier to move along the track. They feature full-width cabs, touch-screen communication inputs and cockpit consoles that provide more real-time operational information.
The first six refurbished 1000-Series rail cars were unveiled publicly on May 28, 2015 at PATCO's Woodcrest Station. The festive send-off and ribbon-cutting was attended by representatives of PATCO and the DRPA, plus U.S. Representatives Bob Brady of Pennsylvania and Donald Norcross of New Jersey and New Jersey State Senate President Steve Sweeney.
"With the rehabilitation of PATCO's train cars, as well as the installation of new tracks across the Ben Franklin Bridge, PATCO is showing its commitment to providing safe, efficient train service to the people of Pennsylvania and South Jersey," said Ryan N. Boyer, chairman of the Delaware River Port Authority, PATCO's parent agency.