PATCO Cares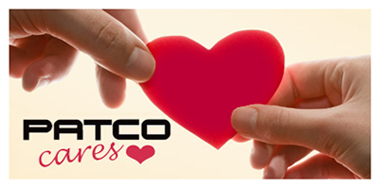 As part of an ongoing effort to be a strong community partner, PATCO created a great program, PATCO Cares, which helps connect several deserving charities and non-profit organizations from the area with our customers. PATCO has a history of partnership with area charities and non-profit groups, and this program is a way to take that to the next level. It is an effective way for PATCO and its customers to support some great causes.
In today's challenging economic times, it can be difficult for non-profit organizations to find a means to reach people. We hope that PATCO Cares will give some of the best charity groups in the region a chance to share their message and promote their causes to more people. The PATCO Cares program will give riders a chance to learn more about some of the organizations that do great work in our community, and, if they are so inclined, to provide financial or volunteer support.
PATCO extends a helping hand and allows one charity or non-profit group to set-up at one of our stations each month in hopes of giving our customers a better idea of their work. The outreach is informative but not obtrusive. Riders will see a notice on the seats or a station sign to announce the groupís presence in the station that evening. If riders are interested and want to learn more or donate, they can easily do so at their station that evening.
Through this great initiative intended to help charities promote their good work and seek more support, PATCO is helping to make a stronger community for all of us.
If you are interested in participating in this worthwhile initiative, call (856) 968-2250 or click here to submit a request.