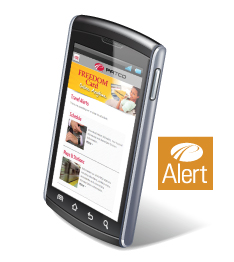 Travel Alerts & Notices
Be prepared. Be connected.
Sign up and receive PATCO travel alerts via email and/or text message. These alerts are time sensitive and will provide notification of a service disruption that may affect your commute. Messages are 160 characters in length and are easily viewed on a mobile device. The alert and additional information (if available) will also be displayed on our website. A second alert will be sent once a disruption has been cleared and normal service has resumed.
| | |
| --- | --- |
| Service Disruptions | Deviations of 10 minutes or more from the published schedule that would add time to your trip, alter your departure times, or bypass stations. |
| Station Maintenance | Any scheduled maintenance work that would alter the functionality of a PATCO station or disrupt services in PATCO stations (such as restrooms, elevators, or parking lots). |
Enroll Now
It's easy! Simply enter your email address and/or text email address
and select the information you want to receive.
How to enter:
Email Address:
yourname@example.com
Text Email Address:
AT&T – XXXXXXXXXX@txt.att.net
Verizon – XXXXXXXXXX@vtext.com
T-Mobile – XXXXXXXXXX@tmomail.net
Sprint - XXXXXXXXXX@messaging.sprintpcs.com
Virgin Mobile – XXXXXXXXXX@vmobl.com
Metro PCS - XXXXXXXXXX@mymetropcs.com

XXXXXXXXXX = Your 10 digit phone number
Privacy Notice: Your privacy is important to PATCO. We will not share or distribute your email or text email address.
PATCO provides this information as a service to the general public. While every attempt is made to provide accurate and timely information, estimates of the nature and duration of any particular service change or other event are subject to conditions beyond the control of PATCO and are difficult to predict. Those relying on this information should do so at their own risk and neither PATCO nor any of its employees or agents shall be liable for the accuracy of this information or any actions taken as a result.
PATCO does not charge for this service. However, you may see charges from your cellular service provider depending on your data/text rate plan. Please consult your provider for details.
Click here to unsubscribe or update your preferences.