August 2018 Report to our Board and Customers
August 2018 Report to our Board and Customers
SERVICE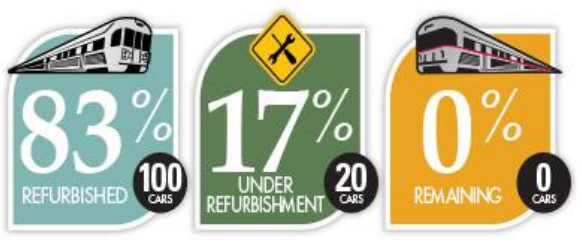 Car Overhaul Program
We've reached a milestone. One-hundred (100) overhauled cars are on site, 98 of which have been conditionally accepted. A graphic is posted on the LCDs in station lobbies and head housed to share the progress of this important project with our customers.
Exemplary Customer Service
Station Supervisor Fran Egolf and Transit Ambassador Lavelle Coleman showed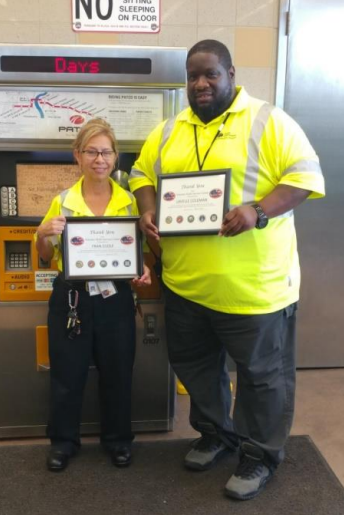 the true meaning of service to the community. While working at the Lindenwold Station, Fran and Lavelle assisted a homeless veteran find a permanent place to stay. They took the initiative to communicate with the NJ Department of Veteran's Affairsto ask for help. The VA was able to accommodate the veteran with a home. The Veteran's Affairs was so grateful for Fran and Lavelle's kind efforts that they sent an award of appreciation to both of them. Now the elderly veteran has a home. He has continued to receive assistance from the Veteran's Administration both personally and medically.
STEWARDSHIP
On-Time Performance
In July, 2018, we had scheduled 5,938 trips. Our on-time performance was 97.59% for the month and 96.50% for the Year to Date. Performance in the AM peak was at 97.70%. We achieved 98% or greater on-time performance for 16 weekday mornings.
Escalators / Elevators Availability
We met our goals again this month. Availability of elevators was 98.31% for the month and 99.15% for the year to date. Availability of all escalators was 97.78% for the month and 96.33% for the year to date.

COMMUNITY
As part of our PATCO CARES initiative, The National Multiple Sclerosis Society supplied literature for a Seat drop on July 17, 2018. The literature promoted the annual MS City To Shore and Bike To Bay bike rides. These events raise funds to support the breakthroughs in MS research and ensures people with MS have what they need to live their lives to the fullest.