Report to the Board and our Customers - August
In preparation for each Board Meeting, PATCO prepares a report for inclusion in the Agenda published on www.drpa.org. The highlights are offered below for the convenience of customers who are interested:
Stewardship
GTFS - On July 6, PATCO began displaying its schedule information in General Transit Feed Specification (GTFS) format so that anyone with access to the Internet, whether via computer, smartphone or tablet, can have ready, easy access to PATCO information in both narrative and graphic form. GTFS allows near-universal trip-planning functions in an easy-to-read format. Having PATCO's information in GTFS greatly expands our visibility to anyone in the world looking for information about traveling between south Jersey and Philadelphia.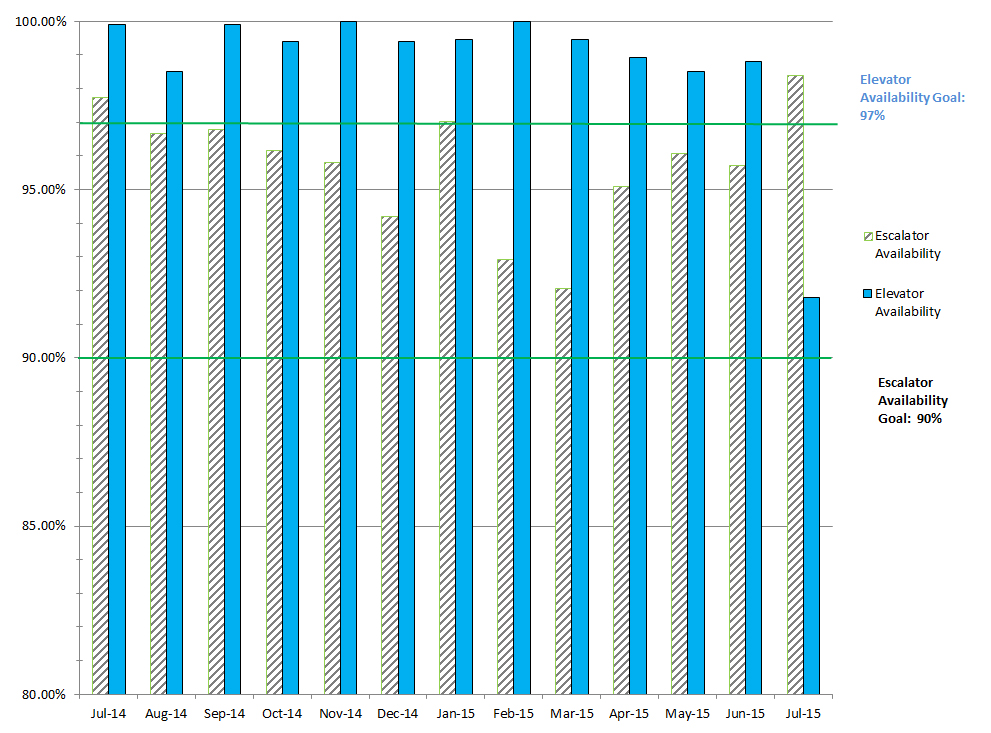 Escalators / Elevators – Availability of all escalators was 98.4% in July. Elevator availability for the month of July was 91.8%. The emergency communications system for the two elevators at our 9th/Locust Street Station was not working early in the month, and we could not allow passengers to use this equipment if there were any possibility of being trapped without the ability to reach us for assistance. We pursued resolution of this particularly thorny malfunction, enlisting assistance from the maintenance contractor, our own electronic technicians, IS staff, Verizon, and the manufacturer of the elevator. PATCO has an arrangement in place to offer alternate transportation to passengers who might be affected by an elevator outage but, perhaps because of wide dissemination of public service information about the unavailability of the elevators at 9th/Locust, no one requested the service. This one issue accounted for 96% of the elevator outages for the entire month. Year to date average availabilities are 93.8% for escalators and 98.1% for elevators.
Since we entered into our multi-year contract with SEPTA to maintain our escalators and elevators, they have done an excellent job of performing preventive maintenance and inspections, and of responding to calls for maintenance. (See attachment.)
SERVICE
Ben Franklin Bridge Track Rehab Project / New PATCO Schedule – On July 5, the track rehab project entered a new phase, requiring a 24/7 outage of the north track. PATCO implemented a schedule to work around that constraint, offering consistent service Monday through Friday. This schedule includes some gaps in service, but the duration and number of gaps are less than those required for a south track outage. We expect to operate this schedule until Labor Day, when contractor work will shift to extended weekends and PATCO will be able to resume its more frequent, traditional service on Monday through Thursday mornings. We expect that the 24/7 track outage this summer will enable the contractor to stay on target to complete the project by the end of the year, four months ahead of schedule.
On-Time Performance – PATCO's on-time performance in July, 2015 was 95.71%. Our on-time performance so far in 2015 is 96.62%. Unfortunately, a disabled train blocked access to the one available track during peak service on two occasions this month. We routinely deploy maintenance technicians to the bridge during peak hours to minimize response time if such a situation were to arise, but any breakdown at those times of the day affects several trains. These two incidents significantly affected our on-time performance for the month.
COMMUNITY
Sale of Passes to Attend Events during the Pope's Visit – In anticipation of the Pope's visit, PATCO has been meeting with DRPA, SEPTA, Amtrak, NJ Transit, the City, and numerous public safety agencies in the region. PATCO's plan offers non-stop service from four New Jersey stations to its 9th/Locust Street Station on Saturday and Sunday, September 26 and 27. We expect many customers who do not already have a PATCO FREEDOM card and will need fare media for that weekend. The sale of one-day and two-day passes began on-line and at our FREEDOM Card Service Centers on July 20.