STEWARDSHIP
Leaf Schedule & Rail Spraying Operation - Each autumn, PATCO implements special operating procedures to minimize the effect of leaves falling on the rails. When the wheels of the train crush leaves, the oily leaf residue can cause wheels to slide, and the friction of the sliding wheels on the rails results in flattened wheels. Trains with flattened wheels would have to be taken out of service. Also the slippery conditions reduce our trains' ability to accelerate and brake. To minimize this inconvenience to our customers and added cost to our operations, PATCO limits acceleration and braking rates for its in-service trains and uses a special high-pressure washer to remove as much of the residue as possible. The speed restrictions result in a slightly longer trip. The "Leaf Schedule" will be in effect from October 22 through the beginning of December.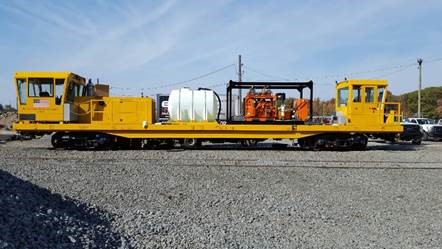 TUV - Track Utility Vehicle - The Board approved the acquisition of a Track Utility Vehicle via PATCO-15-012. At long last this versatile piece of equipment has arrived. The TUV is currently going through acceptance testing, and staff are undergoing training and will be prepared to clean rails, deice the third rail, and clear snow.
Solar Powered Pedestrian Crossing Signs - To enhance pedestrian safety, PATCO has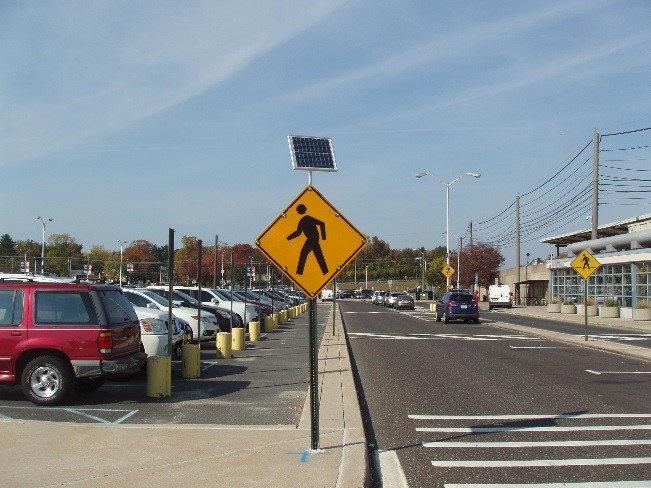 installed two new pedestrian crossings at our busiest New Jersey station, Lindenwold. The solar panel fully powers the flashing LED lights along the perimeter of the signs.
Escalators / Elevators Availability - In October we again exceeded our goals. Availability of all escalators was 97.30% in October and 98.18% for the year to date. Availability of elevators was 99.73% in October and 99.44% for the year to date.

Overhaul Program - Thirty-six (36) refurbished cars are serving our customers, and two more are undergoing qualification testing on-site. Another two cars are expected from the car builder on November 17.
SERVICE
Improved Communications - As part of our continuing effort to improve communications with our customers, PATCO installed new speakers at Lindenwold and 15th/16th/Locust Street Stations, where staff make announcements regarding train arrivals and departures. These installations have resulted in noticeably clearer broadcasts.
Lost and Found - During the month of October, a total of 61 items were claimed through the Lost & Found office in Lindenwold Station. Customers especially appreciated the 20 cell phones, 10 sets of keys, 6 wallets, and 5 IDs. In addition, Lost & Found proactively mailed letters to six individuals who had lost their identification but had not reached out to PATCO regarding their loss.
Occasionally a customer realizes just as s/he is exiting the station that s/he has left something valuable on the train and reaches out for immediate assistance. At least 5 times this month, we succdessfully retrieved and returned valuable items to our customers within minutes of their loss.
Ridership - Ridership in October, 2016 was 910,738, a decrease of 4,298 (-0.47%) when compared to the same period of 2015. The number of weekdays was one fewer in 2016 than in 2015, with 5 Sundays in 2016 compared to 4 in 2015. A comparison of average weekday ridership in the month of October in 2016 vs. 2015 is as follows:
38,040 in 2016 vs. 35,449 in 2015, a 7.3% increase.
Year to Date ridership as of 10/31/2016 was 8,927,909, an increase of 454,902 (+5.37%) when compared to the same period of 2015.
On-time Performance - The on-time performance for the 5,462 scheduled trips in October was 95.93%. Performance for the year to date was 95.91%. When examining our performance during peak periods in October, we find 15 "rush hours" in which no trains at all were delayed. We improved compared to last month (September, 2016 - 95.67%) but did not do as well as October of last year (97.95%).
Three incidents involving slippery rail and the deployment of our rail spraying equipment resulted in delays of several trains. One train had a traction motor problem, causing 10 trains to be late and 3 to be annulled. One other incident effecting 10 late trains involved a clinking sound reported by a passenger on the train; subsequent thorough investigation revealed no defect. In every case, although we are reluctant to inconvenience our customers, PATCO's procedures prioritize safety over convenience.
COMMUNITY
PATCO Cares - PATCO welcomed the "Commitment to Community" agency to our PATCO Cares program. Representatives met with commuters at Lindenwold Station to explain the need to replenish supplies as the school year progresses. Barrels were set out in Lindenwold, Ashland, Woodcrest, and Haddonfield Stations to collect donations from PATCO riders.