STEWARDSHIP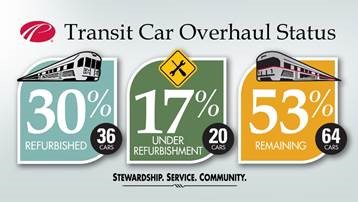 Car Overhaul Program - Two additional refurbished cars have been delivered and are going through conditional acceptance testing. The graphic on our website and on the LCDs in our stations has been updated to show 30% refurbished (36 cars), 17% under refurbishment (20 cars) and 53% remaining (64 cars).
Escalators / Elevators Availability - In August we again exceeded our goals. Availability of all escalators was 98.37% in August and 98.31% for the year to date. Availability of elevators was 99.26% in August and 99.39% for the year to date.

SERVICE
Ridership - Ridership in August, 2016 was 924,589, an increase of 92,415 (+11.11%) when compared to the same period of 2015. This year the month contained two more weekdays than in 2015. A more meaningful comparison of ridership in the month of August in 2016 vs. 2015 might be the average weekday: 36,602 in 2016 vs. 34,539 in 2015, a 5.94% increase.
Year to date ridership as of 8/31/2016 was 7,113,174, an increase of 419,001 (+6.26%) when compared to the same period of 2015.
On-Time Performance - The on-time performance for the 5,732 scheduled trips in August was 95.42%. Performance for the year to date is 95.93%.
The extremely hot weather impacted our air conditioning systems in the cars, and two traction motor problems caused significant delays this month; however, generally a wide variety of issues caused minor delays. Although we are disappointed to have fallen short of our goal of providing on-time service at least 98% of the time, we did improve compared to last month (July, 2016 - 95.32%) and August of last year (94.70%).
COMMUNITY
PATCO Cares - Representatives from the Delaware Valley chapter of the National Multiple Sclerosis Society spoke with PATCO customers at our Woodcrest Station to promote participation in the City to Shore Bike MS event in September.