A History of Commitment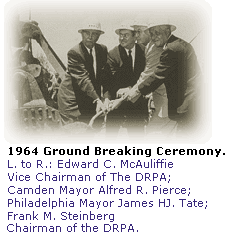 The history of the PATCO (Port Authority Transit Corporation) Speedline first began in 1926 with the creation of the Delaware River Bridge Commission and the construction of the Delaware River Bridge-now called the Benjamin Franklin Bridge.
In 1931, the Delaware River Bridge Commission was reorganized as the Delaware River Joint Commission (DRJC), and was given the authority to construct a high-speed transit line connecting Philadelphia and Camden. On June 7, 1936, the new bridge line opened amidst pressure by community groups for the construction of a more integrated line that would link nearby New Jersey suburbs with the Philadelphia-Camden Line.
With these concerns in mind, Pennsylvania and New Jersey issued a bi-state contract to create the Delaware River Port Authority in 1951. This greatly expanded the powers of the DRJC, and allowed for the construction of a more extensive transit line.
Several studies were done by various engineering firms-including Parsons, Brinckerhoff, Hall and MacDonald- suggesting what kind of transit system would come closest to satisfying the needs of area residents and businesses.
The Parsons report recommended the construction of a three-corridor system that would proceed through a new tunnel under the Delaware River. Route A would extend to Moorestown, Route B to Kirkwood (now Lindenwold) and Route C to Woodbury Heights. The estimated cost was $242 million.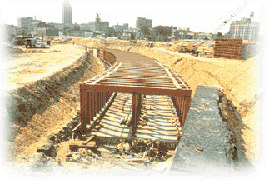 But it wasn't until the firm of
Louis T. Klauder & Associates recommended using the existing rail line on the Benjamin Franklin Bridge and subway connections to Philadelphia instead of building a new tunnel, at a cost of $94 million, that the PATCO dream became a reality. The Klauder report pointed out that the largest concentration of potential riders was in the Kirkwood area, and recommended that line be constructed first.
From the creation of the Benjamin Franklin Bridge in 1926, to the opening of PATCO's Hi-Speedline in 1969, the Delaware River Port Authority has been committed to providing the people of South Jersey and Philadelphia with reliable, quality transportation.
---
Years of Success
The PATCO Speedline began operation on February 15, 1969, with the first trip from Lindenwold, New Jersey, to Center City Philadelphia. Back then, the 14.2 mile line carried 21,200 people per day. Today, more than 38,000 people rely on the Hi-Speedline to get them to work, school, sporting events, shopping and anywhere else they need to go-quickly, easily and without the hassles of driving.
Over the years, PATCO has grown and so has the region. Homes, apartment buildings and businesses were all developed along the PATCO Speedline, creating tremendous economic and population growth. PATCO has also helped reduce air pollution and traffic congestion in South Jersey and Philadelphia by removing more than 12,500 cars from the roadways each day.
---
PATCO Facts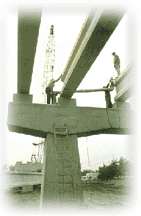 PATCO began service with 8 stations in Camden County, New Jersey and 4 in Philadelphia, Pennsylvania. Six of the New Jersey stations provided Park and Ride service. In 1980, the Woodcrest Station opened in Cherry Hill, featuring 2,700 parking spaces and direct access to and from I-295 via Exit 31. Total parking is now available for over 12,000 cars daily at 7 stations: Lindenwold, Ashland, Woodcrest, Haddonfield, Westmont, Collingswood, and Ferry Ave. There are now a total of 13 stations.
PATCO began operations with 75 automated high-performance state-of-the-art cars which can operate with a single train operator and travel at speeds of up to 75 miles per hour. The cars were designed for passenger comfort with modern air conditioning, heating systems and cushioned seats. The public address systems were installed to make station and service announcements in each car and at each station, and there is constant two-way radio communication with the central control center.
In 1980, 46 new Vickers cars were acquired, bringing the total PATCO car fleet to 121.
Maintenance plays a critical role in the safety and readiness of PATCO operations. PATCO's maintenance philosophy is to maintain facilities and equipment to achieve their maximum expected life. The preventive maintenance program has played an important part in PATCO's provision of safe and reliable transportation. The end result being an enviable PATCO safety record, covering over 2.3 billion passenger miles without a serious train-related passenger injury.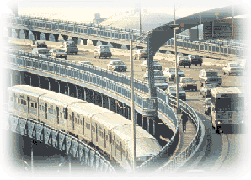 PATCO has a thirty five member police force, which has won awards for dramatically reducing crime throughout the system.
Accessibility improvements for people with disabilities - such as elevators, new fare gates and window adjustments - have been completed in the Woodcrest, Broadway, Ferry Avenue and Lindenwold stations. Elevators accessible to people with disabilities are also located in Philadelphia at the 8th & Market Street and 15th & Locust Street stations.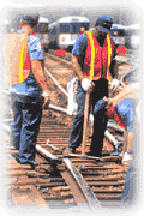 In keeping with the current medical reports linking second-hand smoke to cancer and other lung-related diseases, PATCO initiated a NO SMOKING Policy throughout the entire system, including inside stations, on platforms, and trains.
PATCO employees volunteer for local charity events such as the M.S. City to Shore Bike Tour, Special Olympics, toy and food drives, and they contribute generously to the United Way Campaign. As part of PATCO's school program, "Transportation in New Jersey, Yesterday, Today and Tomorrow," employees are teaching Camden County fourth graders the importance of taking public transportation and its impact on the region.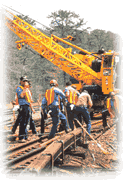 Looking To The Future. As the DRPA and PATCO look ahead, we foresee new challenges to meet the mobility needs of our region. With increasing suburbanization of business and industry, development of neighborhood shopping malls, and inexpensive fuel costs, the automobile is still the preferred choice of travel for many. Consequently, traffic congestion and its resulting air pollution are major problems.
The F.C.A.A. regulations increase the demand for improved expansion and accessibility of user-friendly public transportation such as PATCO.
PATCO, NJ Transit, SEPTA and AMTRAK are all working together to meet the increasing demands by improving and expanding the public transportation service in our region. Click here to learn more about our current ongoing projects.
We would like to thank you for using PATCO over the years. We hope you'll allow us to continue serving you in the years ahead. We're proud of our performance and will continue to give the very best service we can in the years to come.