Projects

Transit Car Overhaul Program
A complete overhaul of the existing train cars to replace outdated systems with new technology while maintaining the major structural framing and external shells.
PATCO ANNOUNCES RESULTS OF CUSTOMER VOTE
And the winner is ….. Color Palette Blue #3. That will be the new seat, floor and interior lining color for the overhauled PATCO cars. PATCO is in the process of overhauling its entire fleet and 26 cars are currently at the Alstom plant in Hornell, New York.
PATCO gave its riders the opportunity to weigh in on the new interior look. Three color palettes with six designs were displayed in several stations along with a sample new seat. Riders were able to cast their votes and pose questions to key staff members working on the car rehabilitation project. The same choices were also shown here on the website to give more riders a chance to pick their favorite.
The vote was close. Out of 1,266 votes cast, 430 votes, 34%, chose Color Palette Blue #3. Color Palette Blue #2 was a close second with 392 votes, 31%.
PATCO President, John J. Matheussen, said, "I would like to thank the over 1,000 PATCO riders who took the time to weigh in on the interior color scheme." PATCO Assistant General Manager, Cheryl Spicer, adds "customers can go to PATCO's website, www.ridepatco.org, and view the winning color."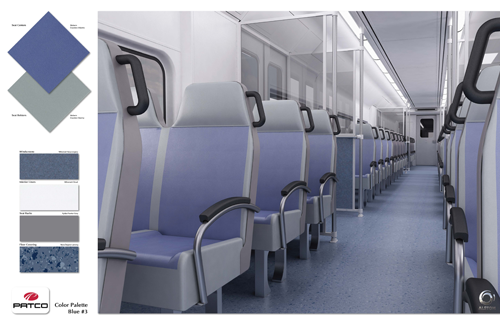 Progress Photos - July 2013
Progress Photos Archives
[ Back to Projects Listing ]