Press Releases
PATCO News & Information
---
Released:1/23/2017
New Schedule starts Saturday, January 28

Adjustments to rush hour schedules to maximize service to our riders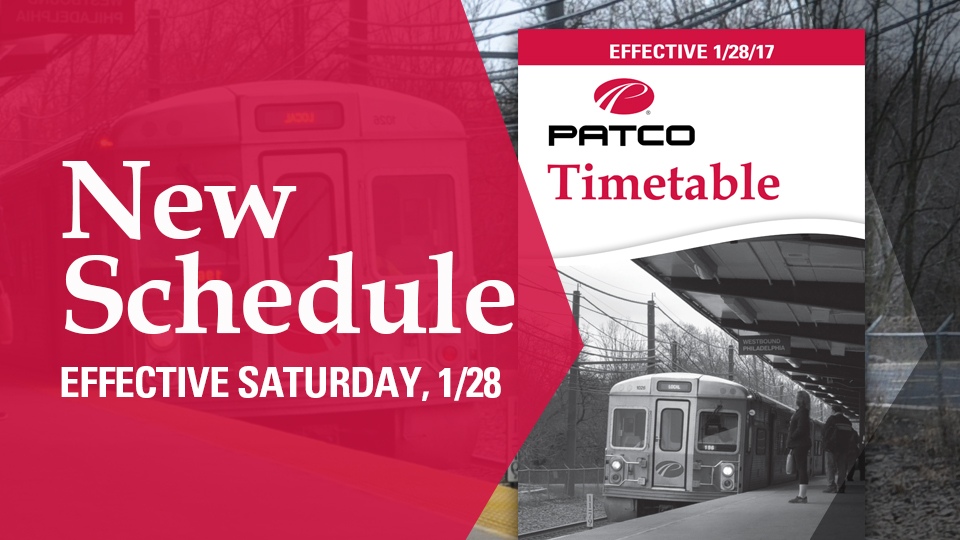 LINDENWOLD, NJ- Based on an analysis of ridership data, PATCO will adjust its timetable to enhance service and schedule reliability for customers starting Saturday, January 28. This will ensure the deployment of available train cars in a way that will allow us to provide the best service to the largest number of customers. The adjustments take place weekdays during the peak periods of AM & PM rush hours. In the morning between the hours of 7 a.m. and 9 a.m., to best serve customers at all stations, three express trains have been converted to local trains, two Woodcrest local trains have been canceled, and some departure times have been slightly adjusted. In the evening between 4:40 p.m. & 5:15 p.m., two eastbound departures from 15/16th & Locust have been canceled and departure times have been adjusted. The weekend schedule remains the same with trains running every 20 minutes on Saturdays and every 30 minutes on Sundays.
The specific major changes to the schedule are as follows:
1. Morning Rush Hours
a. The 7:32 a.m., 7:56 a.m., & 8:04 a.m. express westbound departures from Lindenwold will now operate as local trains stopping at all stations.
b. The 7:40 a.m. & 8:03 a.m. westbound departures from Woodcrest have been canceled.
2. Evening Rush Hours
a. Between 4:40 p.m. & 5:14 p.m., there will be two fewer eastbound departures from 15/16th & Locust and departure times during and around this period have been adjusted.
b. The 5:06 p.m. & 5:10 p.m. eastbound departures have been canceled and the departure times during that period have been modified to be: 4:40 p.m., 4:47 p.m., 4:54 p.m., 5:00 p.m., 5:04 p.m., 5:09 p.m., 5:14 p.m.
Printed timetables will be placed in stations before the new schedule takes effect on January 28. PATCO staff will be in stations Thursday during the PM rush and Friday during the AM rush to distribute timetables. To view the schedule now, click here.
[ Return to List ]
---