Press Releases
PATCO News & Information
---
Released:4/21/2021
Wash. Rinse. Repeat.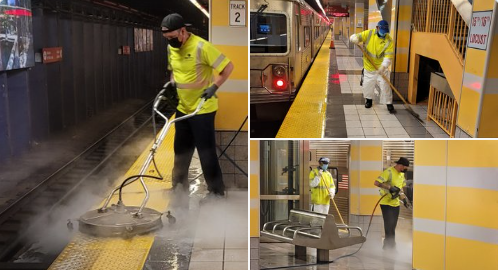 PATCO riders may not see cleaning crews, but they definitely can see the results of their daily efforts. Cleaning crews are deployed at various times throughout the day to maintain, clean, and sanitize stations along the 14.2-mile line.

"We strive to provide clean, reliable service," said PATCO General Manager John Rink. "PATCO crews continuously clean and maintain every station."

Besides regular maintenance cleaning such as disinfecting, mopping, and emptying trash, cleaning crews conduct deep cleanings using pressure washers to provide stations a thorough cleaning. Typically this work is completed during the overnight hours when ridership levels are lower and would have less impact on customers. However, the work may occur during weekends and mid-days during the week as needed.

Typically, one PATCO station is thoroughly power-washed per night. This enhanced cleaning is on a continuous schedule, and crews start at Lindenwold Station and work west. The process focuses on washing the lobby, stairways, and platform areas in the aboveground stations and concourse and platform areas, and stairways in the subway stations. Areas are pretreated with a soap and de-odorizing solution, power-washed to remove dirt and debris, and then squeegeed dry. A floor scrubber is utilized in high traffic areas and uses a special circular cleaner to clean the yellow tactile warning strip along the platform edge.

Depending upon the station, the cleaning process could take as much as five hours to pressure wash one station. After 15/16th & Locust St. Station, crews start all over again.
[ Return to List ]
---