Press Releases
PATCO News & Information - Archives
---
Released:3/17/2014
Revised Bridge Track Construction Schedule - Effective Fri., 3/21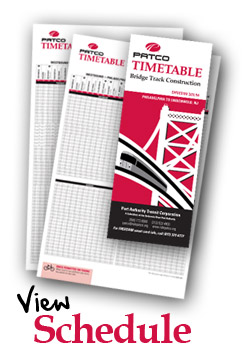 LINDENWOLD, N.J. - PATCO trains will be running on a revised bridge-track construction schedule, starting on Friday, March 21. The new schedule is designed to reduce construction-related, rush-hour congestion.
Instead of closing one track across the Benjamin Franklin Bridge from Friday afternoon until early Tuesday morning, PATCO will close one track across the bridge from 10 a.m. on Friday until 4:30 a.m. on Monday.
As a result, only the Friday evening rush hour, Friday off-peak hours and weekends will be affected by track construction. PATCO trains will run on a regular schedule from Monday morning rush hour through Friday morning rush hour.
"The new PATCO train schedule affects only one weekly rush hour rather than three," said DRPA Acting CEO John Hanson. "We hope the new construction schedule will serve as a welcome compromise between our duty to meet customer expectations and our equally pressing duty to replace aging tracks on the Ben Franklin Bridge."
In mid-January, PATCO trains began running on a new schedule designed to accommodate a two-year, $102.8 million track rehabilitation project on the Benjamin Franklin Bridge. That schedule introduced 30-minute gaps in train service during the Friday evening and Monday morning and evening rush hours.
During the affected rush hours, trains were more crowded, and weather-related delays in Monday and Friday rush-hour service were amplified by a one-track bottleneck at the Ben Franklin Bridge.
"Now we're looking at only one affected rush hour and, as spring approaches, fewer weather-related delays." Hanson said.
At some point after Memorial Day, however, the PATCO train schedule will change again to include a seven-day, 24-hour, one-track closure - or track outage - which will continue for approximately two months. That unavoidable closure will require PATCO to adopt a bridge construction schedule at all hours of operation.
During bridge track outages, passengers may face periodic, 30-minute gaps in train service - although some trains will continue to run every five minutes. Passengers are advised to consult updated PATCO timetables.
The gaps will result from "car stacking" at PATCO's terminal stations. In order to move passengers as quickly as possible during periods of peak demand, PATCO will accumulate - or "stack" - rail cars in Lindenwold to prepare for the morning rush hour and in Philadelphia to prepare for the evening rush hour. After trains reach the end of the line, some empty cars will be express-routed back to their starting points in order to complete rush-hour service.
In addition to the gaps, PATCO passengers and DRPA bridge customers will notice other construction-related service irregularities:
The first few trains to leave station platforms after a rush-hour service gap are likely to be more crowded than usual. The crowding will increase as those trains pick up passengers at stations down the line. During a scheduled track outage, a system-wide train delay caused by a mechanical malfunction could last much longer than a delay which takes place when both tracks across the bridge are open.
Customers commuting in the direction opposite most rush-hour traffic may notice empty trains zipping past them. We care about our counter-commuters, but PATCO must return some empty trains to their starting points in order to transport the largest number of rush-hour passengers as quickly as possible.
Rush-hour passengers who board open trains in Philadelphia and Lindenwold may wait longer than they typically would before doors close and trains depart.
In late spring, construction crews will use one eastbound lane on the Benjamin Franklin Bridge as a multi-month staging area. The lane will be closed to motor vehicle traffic while the crews are using it.
PATCO estimates that the useful life of the Benjamin Franklin Bridge tracks is between 30 and 40 years, depending on intensity of usage, weather conditions and materials used to construct the tracks. The last bridge track overhaul took place in the mid-1980s.
Revised train schedules are available in stations and by clicking here.
[ Return to List ]
---