Press Releases
PATCO News & Information - Archives
---
Released:8/31/2015
New PATCO schedules begin Saturday, September 5th
LINDENWOLD, NJ- Beginning Saturday, September 5th, PATCO will be entering the final stages of its $103 million track rehabilitation project. The work requires a revised Thursday-Friday schedule through the end of October 2015. This schedule returns PATCO to a full, normal schedule between Monday and Thursday morning, and only requires a revised schedule between Thursday mid-day and Sunday night through the end of October 2015. The revised schedule is now available online and printed timetables will be distributed on Tuesday, September 1st. The track work schedule will be suspended from the end of October through early December, at which point it will be reinstated until the end of 2015.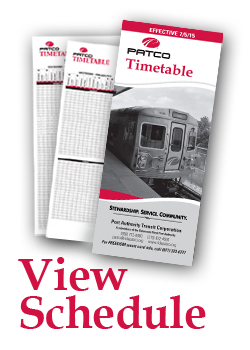 "As we enter the homestretch of this important project, we want to thank our passengers for their patience and support," said John Rink, General Manager of PATCO. "The repair and upgrade of the public assets entrusted to our stewardship as well as our unwavering commitment to providing the highest level of safety and service to our customers, are important priorities of PATCO and we are pleased to be making significant progress towards end of the year completion."
The work in this stage of the project involves finishing the electronic signal and communications system replacements associated with the train track on the north side of the Ben Franklin Bridge. As contractors work on the north side track, all trains will run on the south side track from 10 am Thursday through Friday night. As a result of eastbound and westbound trains sharing a single track, there will continue to be shorter and less frequent service gaps on Thursday afternoons and all day Friday. Some rush-hour trains will continue to run as frequently as every two minutes toward Philadelphia on Friday mornings and toward New Jersey on Thursday and Friday evenings. The contractors will be working on either track on Saturday and Sunday.
Express trains will operate from Woodcrest, Monday through Thursday mornings but will continue to be temporarily suspended on Friday mornings, with local trains originating at Haddonfield to provide maximum passenger capacity during the reduced operating window on Friday morning. Passengers traveling eastbound to New Jersey on Thursday and Friday afternoons will continue to benefit from trains that enter service at 8th & Market station. These trains provide seats to passengers boarding at that station and reduce crowding on trains originating at 15/16th and Locust. Trains will run on full, normal schedules from Monday morning rush hour through Thursday morning rush hour, when both tracks across the bridge will be open. The weekend schedule continues service every 30 minutes, as PATCO has provided for the past several months.
[ Return to List ]
---