Press Releases
PATCO News & Information - Archives
---
Released:12/29/2016
Free PATCO Fares for New Year's Eve into Early New Year's Day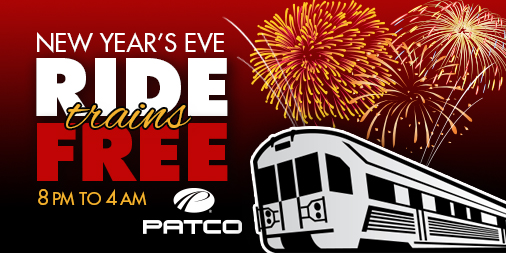 Camden, NJ – Earlier today, Delaware River Port Authority Chairman Ryan Boyer and Vice Chair Jeffrey Nash held a press briefing to review the Authority's accomplishments of 2016 and to look ahead at the Authority's plans for 2017. During the briefing, Boyer and Nash announced free PATCO fares beginning at 8 p.m., on December 31, 2016 running through 4 a.m., on January 1, 2017. During those hours, fare gates at all stations will be open to allow free passage. If a rider boards right before 4 a.m. and reaches their destination station after 4 a.m. when the gates close, they are asked to pick up the red phone and a Customer Service Agent will open the gate to allow exit.
"This free PATCO access is being offered to riders as an alternative to driving, providing a safe option to anyone planning a trip into or out of Philadelphia during New Year's Eve," said Boyer.
"This is all about public health and safety and we are pleased that the DRPA is in a favorable stable financial state that allows this free service to be offered to area residents," said Nash.
[ Return to List ]
---