Platform Digital Signs
A project designed to allow PATCO to alert customers of schedule changes.
Date of Completion: 2019/2020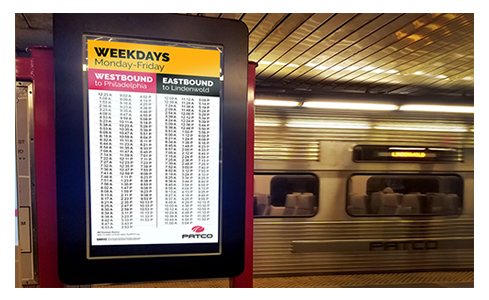 Eighty double-sided LCD monitors have been installed in all 13 PATCO stations. The purpose of the monitors is to display the day's current timetables including special schedules. Previously, PATCO staff would visit each station and manually post any daily changes to the normal schedule. The monitors allow PATCO to make immediate changes to all stations in the event of a necessary change to the regular schedule.
For the time being, the monitors will only display static, or fixed schedule information. Real-time train information, such as a count down timer until the next train arrives, is pending integration with other related software currently being installed by Spring 2019. Once that software installation is complete, integrations between the two systems will begin and real time train information being displayed is anticipated by late 2019 or early 2020.
Paper schedules will still be available in the lobby of every station.