Travel Alerts
Travel Alerts & Special Schedules
---
PATCO Bridge Track Construction Timetable - Effective 1/18/14
LINDENWOLD, N.J. – PATCO trains will be switching Saturday to a new schedule designed to accommodate a two-year, $102.8 million track rehabilitation project on the Benjamin Franklin Bridge.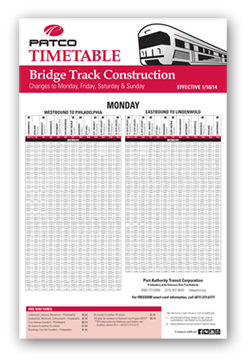 The new schedule will introduce periodic 30-minute gaps into rush-hour train service and probably will increase the number of passengers riding the first few trains leaving stations after the gaps.

"We recognize that some passengers will be inconvenienced by the new train schedule, but we must rehabilitate our tracks on the Ben Franklin Bridge," said PATCO General Manager John Rink. "Fortunately, this investment should improve the long-term customer experience. When the project is completed in early 2016, PATCO passengers will be riding in rehabilitated trains over rehabilitated tracks."

Every weekend – starting Saturday morning, Jan. 18 – PATCO will close one bridge track from Friday at 11 a.m. until Tuesday at 3:30 a.m. For the duration of the new schedule, trains will leave Lindenwold and Philadelphia about 26 minutes apart on Saturday and 30 minutes apart on Sunday.

In the spring, the train schedule will change again to include a seven-day, 24-hour, one-track closure – or track outage – which will continue for approximately four months.

Other bridge track outages will be scheduled in 2014 and 2015. PATCO will announce upcoming schedule changes and other details as the project progresses.

During outages, passengers may face periodic, 30-minute gaps in train service – although some trains will continue to run every five minutes. Passengers are advised to consult updated PATCO timetables.

The gaps will result from "car stacking" at PATCO's terminal stations. In order to move passengers as quickly as possible during periods of peak demand, PATCO will accumulate – or "stack" – rail cars in Lindenwold to prepare for the morning rush hour and in Philadelphia to prepare for the evening rush hour. After trains reach the end of the line, some empty cars will be express-routed back to their starting points in order to complete rush-hour service.

As a result, passengers waiting for trains traveling against rush-hour traffic may see empty cars zipping past stations. That won't be because PATCO doesn't notice passengers standing on the platforms.

"We care about every passenger's needs, and we won't be ignoring anyone," Rink said. "We're simply arranging trains in ways that move everyone through the system as quickly as possible under the circumstances."

In addition to the gaps and the empty trains, PATCO passengers and DRPA bridge customers will notice other construction-related service irregularities:
The first few trains to leave station platforms after a rush-hour service gap are likely to be more crowded than usual. The crowding will increase as those trains pick up passengers at stations down the line.
During a scheduled track outage, a system-wide train delay caused by a mechanical malfunction could last much longer than a delay which takes place when both tracks across the bridge are open.
Rush hour passengers who board open trains in Philadelphia and Lindenwold may wait longer than they typically would before doors close and trains depart.
This spring, construction crews will use one eastbound lane on the Benjamin Franklin Bridge as a multi-month staging area. The lane will be closed to motor vehicle traffic while the crews are using it.
PATCO estimates that the useful life of the Benjamin Franklin Bridge tracks is between 30 and 40 years, depending on intensity of usage, weather conditions and materials used to construct the tracks. The last bridge track overhaul took place in the mid-1980s.

Revised train schedules are posted here and are available in PATCO train stations.
[ Return to List ]
---
Alternate Means of Transportation for Individuals with Disabilities
If you arrive at a particular station and find the elevator out of service, PATCO will arrange for alternate transportation to the closest station with an operating elevator. You can either call (856) 772-6900 or use the elevator intercom/phone to make a request.