Saturday, December 2nd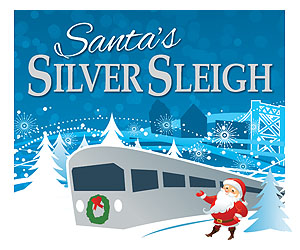 Ride the train with Santa on Saturday, December 2, 2017 and make PATCO's Silver Sleigh a part of your family holiday fun. Festive decorated PATCO trains will make three trips, leaving the Lindenwold station at 9 a.m., 10:35 a.m. and 12:05 p.m. and picking up passengers at all stops along the way.
"We're making the train ride part of the family holiday fun," says John Rink, PATCO General Manager. "PATCO is the best way to enjoy holiday traditions in Philadelphia. Parking is free at our stations after 10 a.m. and our 15/16th & Locust St. Station is in walking distance of all the action."
After enjoying their ride with Santa and his elves, complete with seasonal music, Santa's Sleigh passengers can shop at Christmas Village, check out the light show and "Christmas Carol" display at Macy's or strap on their ice skates at the Rothman Rink at City Hall, among many other family-friendly activities.
Trains run every 20 minutes throughout the day, but to catch Santa's Silver Sleigh to Philadelphia, be ready to board at the following times: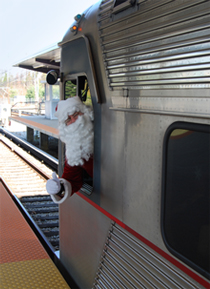 Lindenwold – 9 a.m., 10:35 a.m. or 12:05 p.m.
Ashland – 9:02 a.m., 10:37 a.m. or 12:07 p.m.
Woodcrest – 9:03 a.m., 10:38 a.m. or 12:08 p.m.
Haddonfield – 9:06 a.m., 10:41 a.m. or 12:11 p.m.
Westmont – 9:08 a.m., 10:43 a.m. or 12:13 p.m.
Collingswood – 9:10 a.m., 10:45 a.m. or 12:15 p.m.
Ferry Avenue – 9:12 a.m., 11:47 a.m. or 12:17 p.m.
Broadway – 9:15 a.m., 10:50 a.m. or 12:20 p.m.