TRANServe Transit Benefit Riders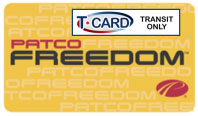 PATCO now has a new Fare Product, the T- CARD, to accommodate our Transit Benefit riders. Customers that received a TRANServe card can continue to use it. This T-CARD will work the same. It just has a new logo. Per IRS rules, transit benefits are not valid for parking. This new card will not work at the parking gates.
You can get your new card at a FREEDOM Card Service Center.
Your initial card is free. Any future card replacements will cost $5.
This new Fare Product will work the same as the current FREEDOM Card except:
Not valid at parking gates
Not loadable at the ticket machines
Card must be reloaded on line at www.patcofreedomcard.org or sign up for auto replenishment using TRANServe monies via the same website.
If additional funds are needed after TRANServe money is spent, you may use your personal bankcard to load funds via website.
You may retain your current FREEDOM Card and exhaust those funds when feasible.
Any further questions, please call the FREEDOM Card Service Center at 877-373-6777.