Collingswood Station
Art In Transit
Waterlines Collingswood
by Stacy Levy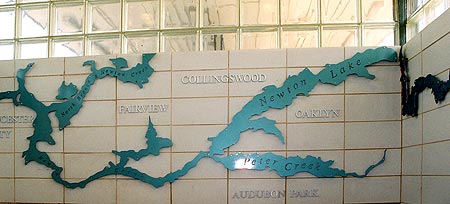 For all of us who grew up with nature at arms-length, Stacy Levy is a sculptor of great importance. I learned about ecology from push button dioramas in a suburban nature center, looked at exhibits of trees in museums and learned about the movement of the stars by watching PBS rather than the night sky.
As an artist, Ms. Levy acts as nature's translator by using technology or representation to, in her words "create an instant of wonder and understanding for the viewer." In her filling a gallery with thousands of steel and plastic replicas of weeds which would grow on that spot, or enlarging the microorganisms which inhabit drinking water on etched decanters and drinking glasses, Ms. Levy tempers that sense of wonder with the assertion that we are continually moving farther from nature and that we are forever in danger of losing touch with our roots.
Stacy Levy graduated from Tyler School of Art in 1991 with a M.F.A. in Sculpture. She received a B.A. from Yale University in 1981. Other schools attended include Skowhegan School of Painting and Sculpture and The Architectural Association in London, England. She has exhibited at the Institute of Contemporary Art in Philadelphia, Philadelphia Museum of Art, Rosenwald-Wolf Gallery at the University of the Arts, and Larry Becker Contemporary Art in Philadelphia among other venues. In addition to her work as an artist, Ms. Levy works as a native landscape restorer and urban forester.